Sunday Social
Hey Everyone!
I have 2 giveaways going right now so be sure to check them out! Click this link to go to my giveaway for 2 Runbandz of your choice.
Click here to go to my giveaway for anything of your choice with a value of up to $60. Both have great prizes and they both have chances to earn more entries every day!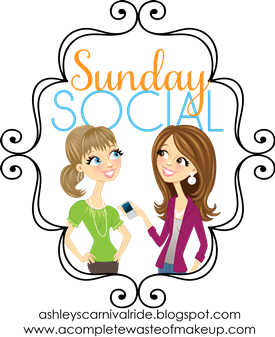 I linked up with Ashley and Neely again for Sunday Social!
What is your favorite store to shop at?
This is a really hard question for me... I have so many different stores for so many of the things that I like! My favorite beauty store would definitely have to be Ulta. I love their makeup selection and they have great products. My favorite clothing store is probably Forever 21. Their clothes are cheap yet still stylish. Target is my favorite go-to store. They just have everything!
If you could afford anything and everything, which designer brand would you covet?
Chanel. I could take about my love for Chanel for days. I love their purses, their jewelry, their clothes, their makeup. Anything with the name Chanel on it, I want. I don't currently own any Chanel products but I will some day! Especially this purse:
Must have closet staple?
Khaki shorts. I can't live without my khaki shorts. They are super comfy and they match everything.
Favorite kind of shoes? (brand or type)
I wear flip-flops all of the time. They are my go-to shoes for everything. I usually carry a pair in my car for the nights that I wear uncomfortable shoes and I'm ready to change them.
Best clothing deal you've ever gotten? (sale or amazing find)
I usually buy a lot of my workout gear when it's either on clearance of 50% off. I know that I'm just going to sweat in it and make it all gross anyways LOL
Style you'd love to try?
I wish I could try a more vintage style. I love the way vintage clothes look but I never thought that I could pull off a pin-up girl look.
Did you do a Sunday Social post? Put the link in the comments section for me so that I can check out your post too!