Sunday Social
Hey Everybody!
Click here to go to my giveaway for anything of your choice with a value of up to $60. Today is the last day to enter!!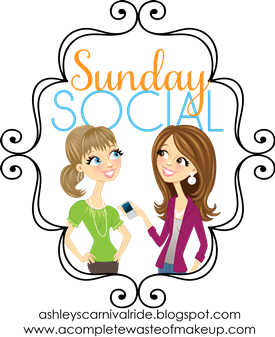 I decided to link up with Neely and Ashley again for another round of Sunday Social! My friends and family always say that I have a major case of "wanderlust" so I was super excited to see that the questions were about traveling :)
1. What is the best trip you've ever been on?
I have been on so many trips in my life, this is a really hard question for me. I'll just go with my most recent trip since that one was tons of fun. I went to London, England last year and it was one of the best experiences of my life. I'm just going to explain my trip with some pictures :)
I got to see Big Ben! All of these were pictures were taken by me (promise that I didn't just take them off of the internet).
London was so beautiful at night.
The architecture was breathtaking.
Did I mention that I got to see the Queen of England too? I told that to some locals and they said they've lived in London their whole lives and have never seen the Queen in person.
We all had a really, really good time :)
2. What is your best idea for a girls weekend trip?
That would depend on the kind of girls weekend trip that I wanted to have. If it was a relaxing girls trip then I'd say some sort of spa would be really fun. If it was a crazy girls trip then I'd want to go to Las Vegas!
3. What is your best idea for a couples trip?
I've always wanted to go to Tahiti with D! Tahiti is probably my honeymoon dream vacation. I always wanted to stay in their water bungalows.
Seriously, how much more romantic could a trip get? You are staying with your other half in a bungalow the perfect size for you two over this beautiful blue water. The bungalows are even beautiful on the inside, they usually have a partial glass floor so you can see the fish swimming underneath. It's a super expensive trip though so maybe it's my dream vacation for the second honeymoon.
4. What is the best vacation on the cheap?
Since I live in the Midwest, I'd go to either Chicago, Branson or Colorado. My first choice would be Colorado because I've been there so many times and I absolutely love it. It's just something about the mountain air that I can't live without. I love staying at little bed and breakfasts in Colorado because they're all so beautiful when the mountains are right in your back window. I've never been to Chicago, surprisingly. Well I have, but I don't like to count staying in Chicago during a layover at the airport as visiting a city. I've always wanted to visit the silver bean that everybody takes pictures with in Chicago. Branson, Missouri is a really good family place to visit too.
5. What is the place you most want to visit?
I have so many unexplored territories that I want to go to. One would be South Korea. My school had a lot of foreign exchange students at it and I became very close with my friend Jin Hwa (she wanted to be called Cynthia). I'd love to visit her in South Korea one day. I want to go to Australia, Tahiti, France, Peru, Argentina, Brazil, Spain, Germany, Italy, Egypt, China, etc. I have so many places that I want to visit. If I made a list, it'd be endless. I'd say that I wanted to visit every single country in the world. I've got my list started at an early age so maybe one day I will. I am currently planning my trip to Jamaica!
Let me know if you did a Sunday Social post! I love reading everybody else's post too :)