River Magic by JM Brown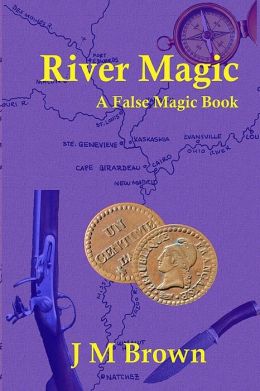 I've been getting into reading a lot more than I have been lately and I love it! I received the opportunity to review the book River Magic: Flint and Steam
by JM Brown. I've never been good at describing books without ruining the ending so I'm just going to give you all the description that you can see online about the book:
"
Aimee and Brenda, fourteen-year-old orphans, meet up in an alternate history version of St. Louis, Missouri Territory in 1822.
In this alternate history, slavery has been abolished in the United States shortly after the ratification of the Constitution in 1789. The Iroquois Nations fought on the side of the United States instead of the British during the revolution, and the Iroquois have maintained their independence and formed a strong alliance with the United States against the Indians of the western plains and the great powers of Europe who seek to reclaim North America.
While seeking a lost letter, the girls get swept up in a conspiracy against the alliance between the United States and the Iroquois Confederacy."
Lately I've been really into books with alternate history endings. I think that they're really interesting to read and your imagination can run wild with it! All in all, I really enjoyed this book a lot. It was an easy read for me because I thought it was so good. There were times when it was hard for me to put the book down and do some work! If I understand correctly, this book is the first of its series. I would not mind one bit if I read the rest of the series!
It was very well written and an overall fun book to read.
I received one or more of the products mentioned above for free using Tomoson.com. Regardless, I only recommend products or services I use personally and believe will be good for my readers.