Sunday Social
Don't forget to enter my giveaway for a $50 Visa giftcard giveaway! Click here to enter the giveaway :)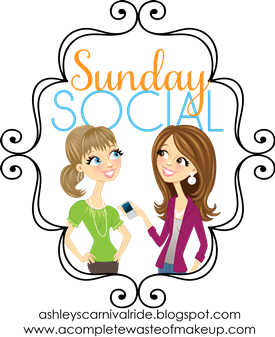 1. What do you miss most about being a kid?
I really miss going to my Grandma's house all of the time. I used to spend almost every weekend and a couple of weeks of summer at my Grandma's house when I was younger. It was the best time ever! We used to stay up until the wee hours of the morning playing Old Maid and UNO :)
2. Dd you have a nickname growing up? What was it?
I never had a nickname growing up. Everybody called me Erica, or when I got into trouble it was always Erica Lynn LOL. I guess that a lot of people did call me Blondie and Goldie too. People still call me Blondie today.
3. What was your favorite thing to do at recess?
Four square was the best game EVER. My girlfriends and I used to spend so much time playing four square. If we weren't playing four square, we were pretending like we were Cheetah Girls. Do you guys remember the Cheetah Girls? It seems so long ago now!
4. What did you want to be when you grew up?
My dreams and goals were pretty generic when I was younger. I wanted to either be an actor or a singer, even when I was younger I knew that they would never happen though LOL. A girl can always have big dreams though, right? At one point I even wanted to me a model, that was more during my Jr. High days.
5. Did you participate in any school activities?
I actually participated in a lot of school things. I was in student council, volleyball, basketball, tennis, patrol, math club, reading club, world mission... I think that was pretty much it. That's all between Elementary School and High School. I was pretty active with my school activities.
6. What is the funniest thing you did as a kid that your parents still remind you about?
They will never, ever let me forget about the time that I rode my bike from my house, all the way to the closest gas station and back. The closest gas station was about 5 miles from my house and I was about 6 years old. My parents had no idea where I was and at the time, it was definitely not funny. We have a good laugh about it now though. I only did it because I wanted to get some candy LOL.